Description
Characteristics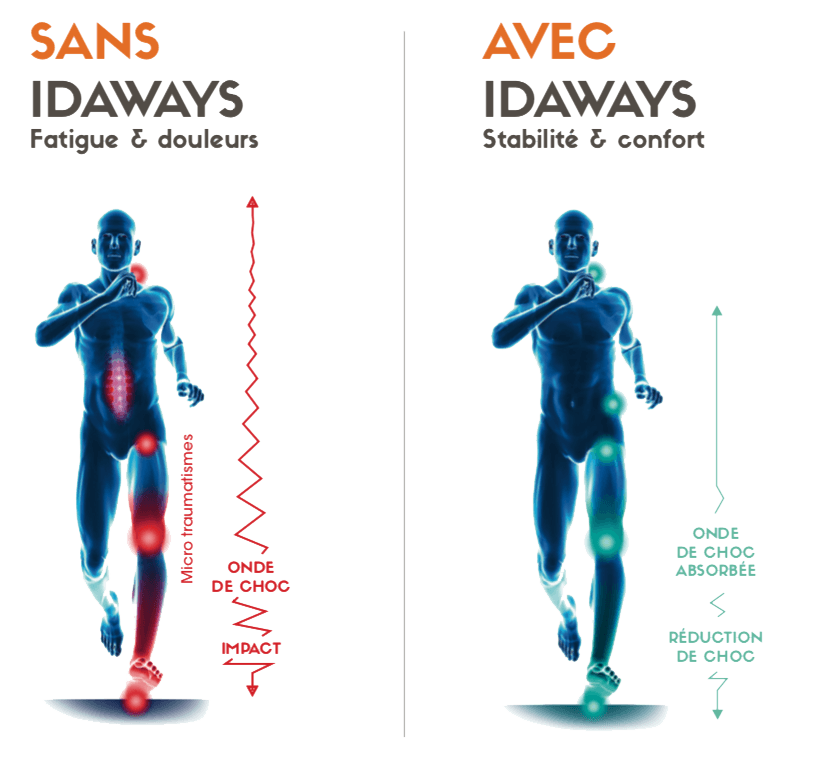 Idaways SPORT insoles are equipped with our IDASYS technology, a French technology for intelligent dynamic damping derived from aerospace.
We have designed the Idaways SPORT to meet the expectations of athletes with insoles that combine cushioning, dynamism and support. For this, we have surrounded ourselves with sports doctors, physiotherapists and top athletes to offer insoles that are as effective as they are durable and that already satisfy more than a hundred athletes!
What is IDASYS technology?
This technological revolution is characterized by a unique and patented device which greatly reduces shock waves and provides essential stability for the support of the foot / ankle / knee assembly, unlike the use of soft materials with limited performance used in all market soles.
What will the Idaways SPORT insoles bring me?
This results in a healthier stride, without parasitic vibrations, which will help you maintain a more sustained pace and therefore a significant performance gain while preserving your body. Regular use of SPORT insoles improves your recovery, reduces muscle fatigue and joint pain and prevents back pain (lumbago): the main consequences of shock waves.
We have taken care to keep the properties of your sports shoes intact. The Idaways SPORT are therefore designed to be complementary with these. Once in place, you will never forget our insoles again!
The support of the foot is ensured at the back by edges wrapping the heel and the support of the arch of the foot. The stiffness of the sole provides good transverse hold.
What is the lifespan of SPORT insoles?
We have made a point of honor on durability so that your Idaways SPORT accompany you as long as possible! In fact, Idaways SPORT insoles have a lifespan of several years on average. The materials we use in the manufacture of our insoles do not sag and our IDASYS technology has a very long lifespan!
Choosing Idaways SPORT means choosing innovative French technology, years of R&D and design and a unique pair of soles for your sporting activities!
A question ? The IDAWAYS Crew is here to answer you! [email protected] or on Instagram: @idaways_france