Description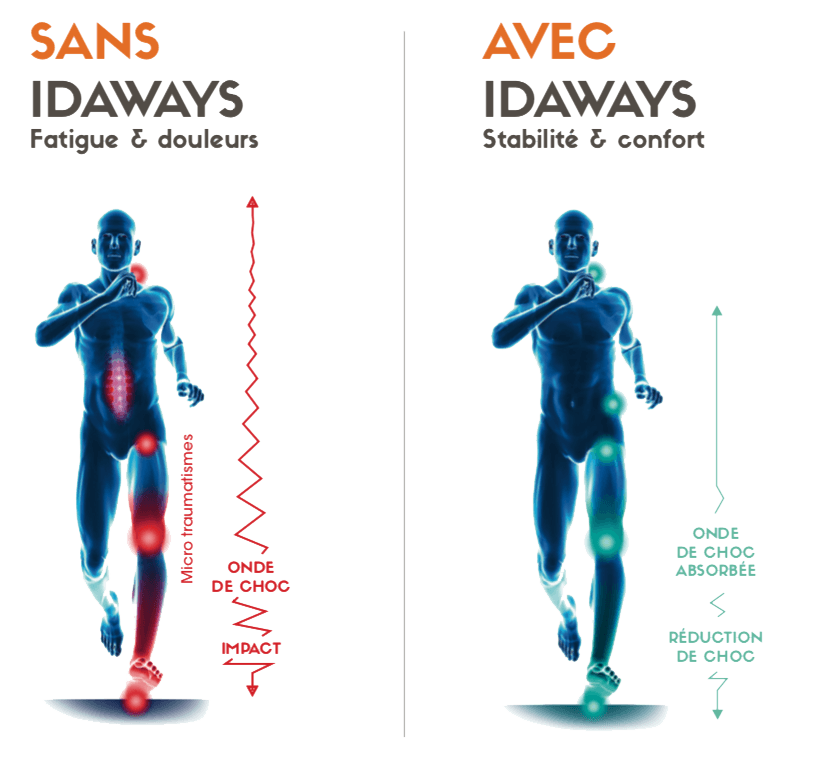 Idaways Physio insoles, your allies in all conditions. The know-how of French engineering on the market thanks to our IDASYS technology!
Our technology effectively responds to harmful shock waves on your body by filtering them out upon impact.
Why use Idaways Physio insoles?
An effective and proven solution to everyday nuisances (back pain, joint pain, heavy legs, etc.).
– On a daily basis, when hiking or golfing, feel unparalleled comfort, less feeling of heavy legs, fatigue and joint pain at the end of the day. They also come in prevention of back pain (lumbago for example).
We designed the Idaways Physio so that the user feels optimal comfort and high-performance cushioning that will allow him to enjoy every moment of his day serenely without worrying about joint pain, back pain and heavy legs. The support provided by the Idaways Physio in the shoes will allow you to have a good position when standing and ideal comfort!
The support of the foot is ensured at the back by edges enveloping the heel. The rigidity of the sole allows good transverse support as well as flawless support of the arch of the foot.
What is IDASYS technology?
This technological revolution is characterized by a unique and patented device that greatly reduces shock waves and provides essential stability for maintaining the foot / ankle / knee assembly, unlike the use of soft materials with limited performance.
Choosing the Idaways Physio means choosing innovative French technology, years of R&D and design and a unique and durable pair of insoles for your golf courses, your hikes and your daily life!
Feel the #IDAWAYSEFFECT now.